YEAR END CLOSE OUT SALE  BIG SAVING ON YOUR NEXT BIKE
145 South Van Ness Avenue -next to the Dainese store.Two
BLOCKS OFF MARKET st 
We Sell Motorcycles
Let us help you find the perfect bike!
We Buy Motorcycles
Avoid the hassle of selling your bike by selling it to us.
We Refurbish Motorcycles
Prior to being sold, all our bikes receive a tune-up, a safety check, a 37-point inspection and are brought up-to-date on manufacturer recommended services.
We Service & Repair Motorcycles
From tires to full service, our shop has got you covered.
NEW HOURS: WE ARE OPEN 11-5:30 TUESDAY – FRIDAY and 12-5:30 SATURDAY
GET FINANCING ON ALL BIKES

GET PRE-QUALIFIED
Great rates as low as 9.9. For 60 months.
First time buyer program available credit score is low is 550

CLICK TO QUALIFY
NEED FINANCING ?
APPLY ON-LINE
https://octane.co/flex/661040
DELIVERY IS AVAILABLE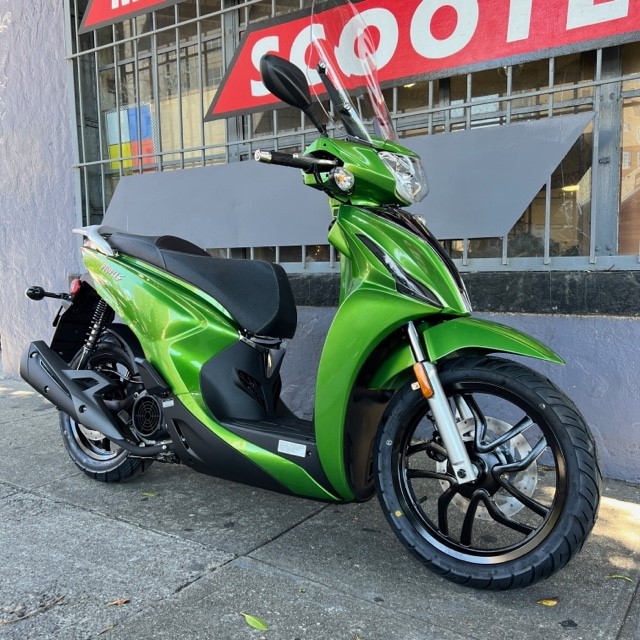 23 KYMCO PEOPLE 150S ABS SOLD 
$399 FREIGHT PLUS TAX AND FEES
2 YEAR WARRANTY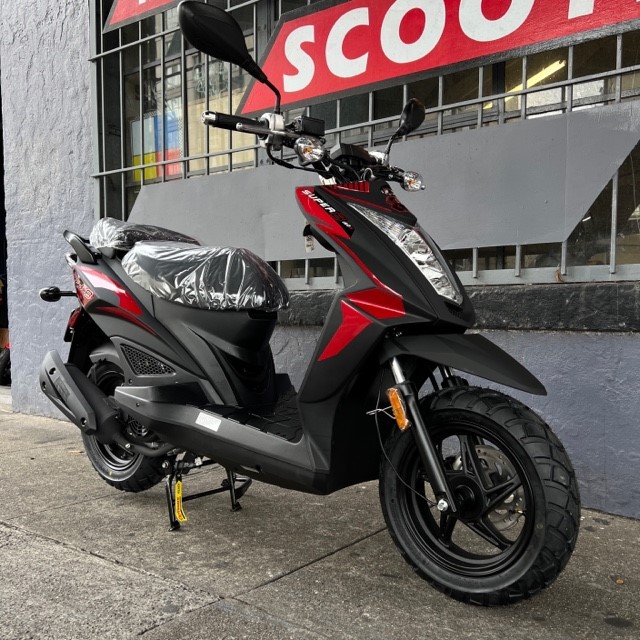 23 KYMCO SUPER 8 150X  NEW (after rebate) $2569.00
$399 FREIGHT PLUS TAX AND FEES
2 YEAR WARRANTY
            ONLY 2 IN STOCK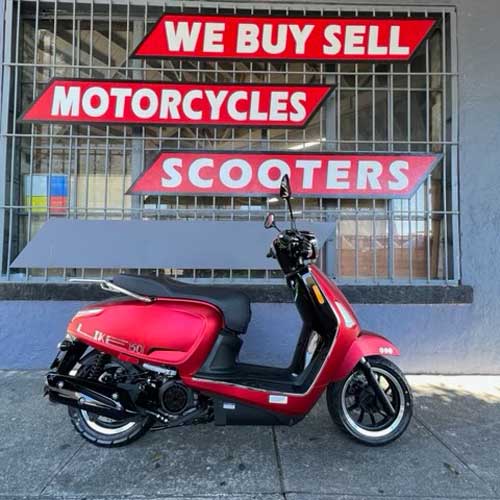 23 KYMCO LIKE 150I NOODOE ABS $3499,00


$399 FREIGHT PLUS TAX AND FEES




2 YEAR WARRANTY




"BIKES COMING SOON"

SCROLL TO THE BOTTOM
 
THE BIKES LISTED BELOW ARE NOT READY FOR SALE, BUT YOU CAN COME BY AND HAVE A LOOK
BIKES WITH PHOTOS & PRICES AND READY TO ROLL 
2008 SYM HD 200cc FREEWAY SCOOTER 
BIG WHEELS 
$2399.00 
2006 VESPA LX 150  ONLY 5K MILES
DARK BLUE W/TOP BOX 
SALVAGE TITLE 
$1899.00
2008 SYM HD 200cc FREEWAY SCOOTER SILVER $2499.00 



2007 KAWI XZ600 GREEN 
WITH PIPE 
$2999.00 
2015 HONDA CB300F
RED 4K MILES
YOSH PIPE
2015 HONDA CTX700 "DCT" ((ABS)) BLUE  8K MILES 
19 HONDA REBEL 500 ((ABS))
BLACK 
2018 HONDA REBEL 500
14K MILES BLACK 
2002 HONDA VLX600 SHADOW
7000 MILES
BLACK 
2018 HONDA REBEL 500 ((ABS)) 6000 MILES
$6499.00
2009 YAMAHA V-STAR 250
BURGANDY
9.5K MILES 
OPEN 11-5:30
TUESDAY-
SATURDAY
SERVICE APPOINTMENTS
AVAILABLE 
Inventory updated DAILY, if it has images and a price, it is for sale!
See something you like? Call us at 1-415-255-9527 or come by to find out more.
**Updated 11/28/2023**
PRICES ARE  FAIR & FIRM
TAXS & FEES EXTRA
2015 HONDA CB500F ((ABS))
5 K MILES STOCK LIKE NEW WHITE/RED 
$5499.00


2003 YAMAHA XT225 DUAL SPORT PLASTIC TANK / PRO TAPERS
$3299.00 SALE $3099.00
 2008 BUDDY 150
NEW TIRES READY TO ROLL 
$1795.00 


2018 HONDA GROM 125

((ABS)) RED
2K MILES
$3599.00 SALE $2999.00
2010 KLX 110L $2099.00
06 HONDA CRF100 $2199.00
A Quick Explanation About Tax, Title & Documentation Fees
The tax and license fees are the same as what you would pay if you went to the DMV yourself: sales tax, registration (if due) and $15 to transfer the title into your name.
The documentation fee ($85) covers the cost of sending a "DMV service" to stand in line at the DMV and do the paperwork. This gets you out of an afternoon at the DMV!
Regardless of your age or whether you are learning to ride or an experienced rider, we have a bike that will fit your needs. We specialize in having a wide variety of bikes, from sport bikes to cruisers, in an array of styles and engine sizes, so there is always one to match your plans and unique riding style.
Location
145 South Van Ness Avenue
San Francisco, CA 94103
Hours of Operation
Tue – Sat: 11am – 5:30pm
Sun & Mon: By appt only