Our love of motorcycles was established decades ago, taking root in our desire to travel and see the world through our own eyes. Anyone who has ever ridden a motorcycle knows how truly different the experience is. The scenery is crisper, the air fresher and the value of being that much closer to everything around you is priceless.
We Buy Motorcycles
Don't have the time or energy to sell your bike? No problem!
Ride it over to MotoJava for an inspection where we will come to a fair agreement on price. All you need to do is sign the title and we will pay you on the spot. 
We Sell Motorcycles
We have been helping new riders find the perfect bike for decades. Spend a few minutes with us trying out bikes to figure what suits you best.
As part of the sale, MotoJava prepares all the necessary DMV paperwork for proper title transfer and registration so you don't have to!
We Service & Repair Motorcycles
From tires to full service including valve adjustments, electrical and suspension work, we can get it done right for you.
As a small shop, we are typically booked out a week in advance.
We Refurbish Motorcycles
Prior to being offered for sale, all of our motorcycles:
Receive a tune-up
Are brought up-to-date on manufacturer recommended services
Have a 37-point inspection
Go through a safety check (at no extra charge)
It's not unusual for shops to charge extra, in addition to the quoted price, for this service.
The photo below shows what a bike typically looks like at the half-way point.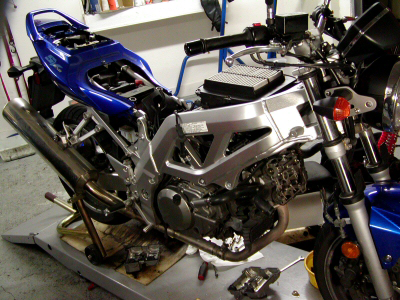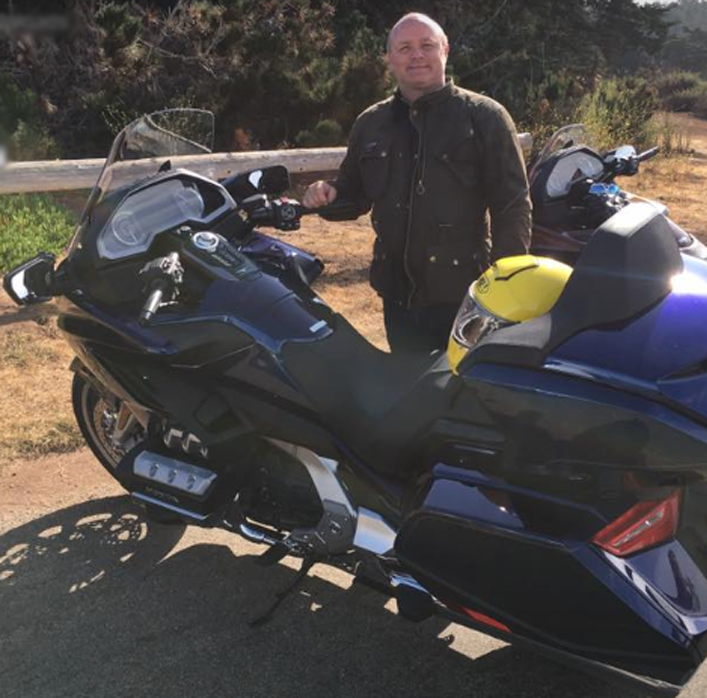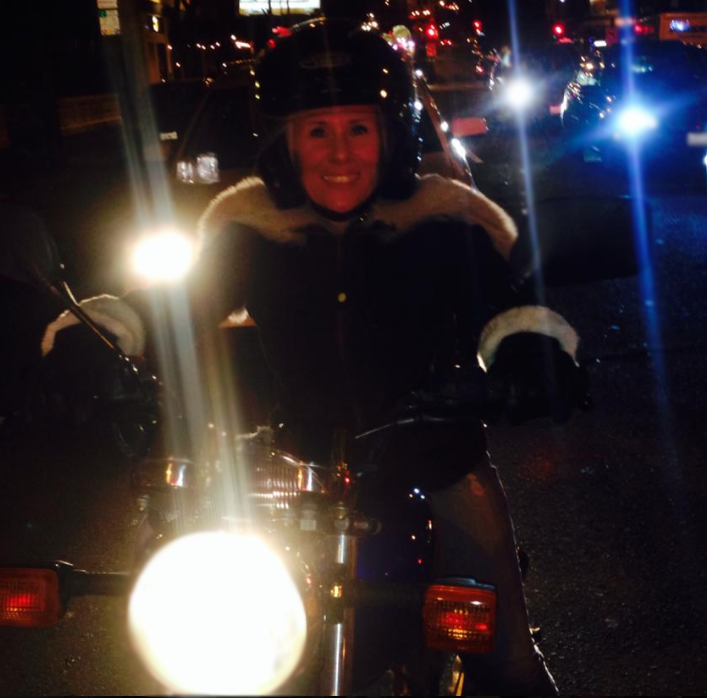 Mike has been riding motorcycles for over 25 years. He has traveled all over the world, almost always riding to discover areas in those traveled lands. 
Not only does Mike ride, but he has also been a ride instructor. Teaching new people how to ride safely, and seeing them embrace the unique benefits of riding is why he works in this industry.
If you have questions or are looking for direction on how to move forward with riding, Mike is your guy!
Kim has also been riding for years, quickly becoming a huge fan of the freedom that only being on the back of a motorcycle can provide.
Though she did not begin riding as early as Mike, deciding to learn to ride was an easy choice and one she will always be glad she made as she continues to enjoy experiencing new places.
A Closer Look at Moto Mike
The content in this section was taken from an article posted in CityBike.com in August of 2018.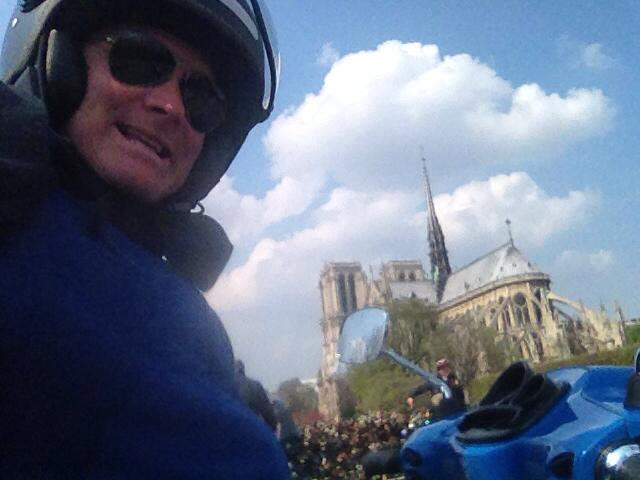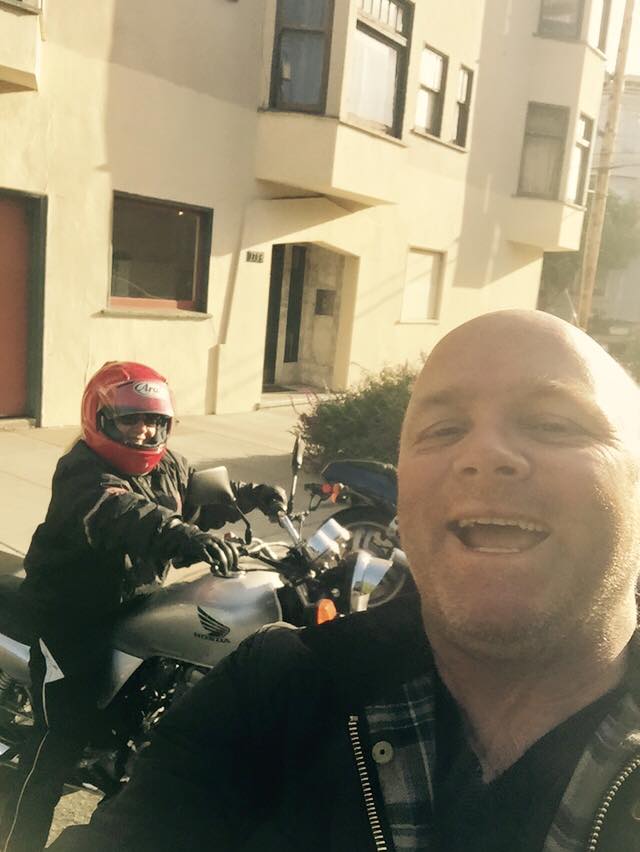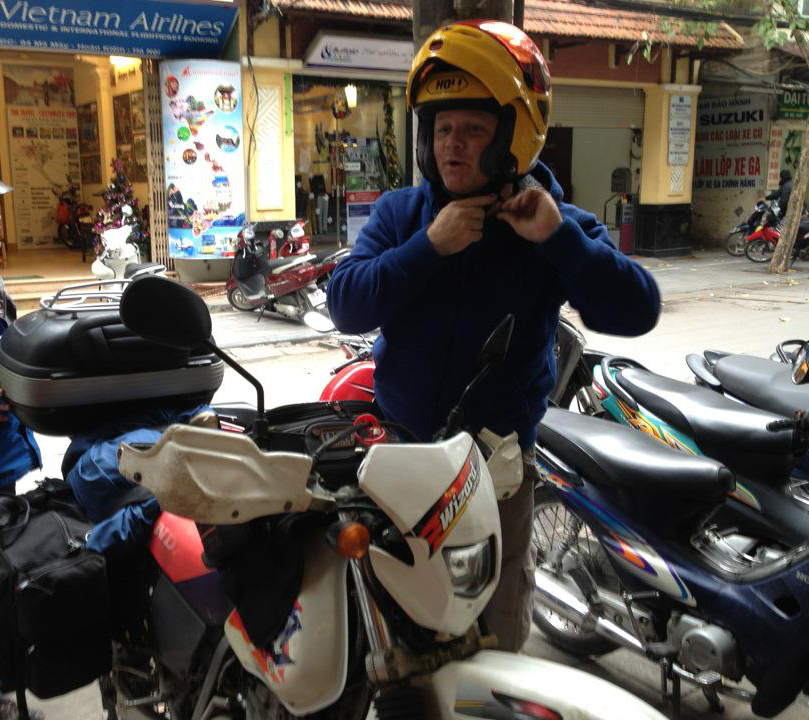 "When I caught the CRF350 Rally bug, I casually mentioned it to Moto Mike as I dropped off MotoJava's helping of CityBike a few months back. Mike's an avid Honda enthusiast, and woudl at least have some thoughts about the bike beyond my own opinions gleaned from our tester and Editor Surj's non-Rally 250L bling-fest. It turned out he had actually bought one for himself adn was awaiting delivery. AFter giving the Rally a once over, Mike decided that particular moto wasn't fo rhim, and thus began my adventures in CRF land.
Funny story: I'd actually met Mike seven years prior when he was selling a Suzuki Savage on Craigslist. I didn't buy that bike form him, but he did drop a handy tip about teaching novice riders how to operate motorcycle clutches. I'd also run into him at several other motorcycle shops throughout my travels in the Bay over the years. In fact, well-known doesn't even begin to describe Mike in Bay Area moto circles.
The transformation from simply "Mike" to "Moto Mike" came about at the budding age of 14. While shopping for his first car, a deal came around on a Honda Spree that was simply too good to pass up. Mike dubbed the little Honda scooter "Killing Spree", and spent some time riding it around the back roads of Texas before the state had authorized him to do so.
From there, he rapidly passed through a '79 KZ440, a '72 SX650, and then on to a '75 Honda 400/4, the bike with one of the best-looking factory exhausts in existence, even to this day. The 400/4 made such a lasting impression that Mike still owns one to this day.
He found his way to the Bay Area and into the shop at Scuderia. While going to night classes at culinary school, he spent his days 
wrenching on bikes. His dirty fingernails and grease-stained hands never played well with his instructor, but he graduated nonetheless.
Despite his new credentials, Mike's path was set. Life as a chef never had a chance, and he ended up selling bikes at Motorcycles Unlimited. That job gave him a glimpse into how many people needed riding instruction. He first moonlighted as a riding instructor, then became an official MSF instructor, before finally staring his own school: "Moto Mike Learn to Ride."
What does a guy like that do for fun? He rides motorcycles of course!
After a brief stint in the AFM, Mike learned that racing wasn't for him – something about not seeing the value in riding for a long time and not going anywhere. That revelation spawned a log book of motorcycle touring in 46 countries…so far. These adventures include a year in Europe riding a Yamaha FZR700, a month in Australia on a BMW GS, covering Vietnam on a Honda XR250, and Costa Rica on a regional version of the XR400. Throw in nine trips to the Isle of Man if you must – as if we all need more reasons to be jealous.
What's Mike up to nowadays? As owner of MotoJava, he's continuing to put people on two wheels. The shop sells all manner of used motorcycles, but seems to mostly serve as a front for Mike to continue collecting blue Hondas and redistributing Nighthawk 250s. He estimates that over 700 of the little learners have passed through his hands at this point.
Seven hundred!
His love of the tiniest Nighthawk even inspired an unclothed ride through a pyramid of burning cardboard boxes on year at Burning Man. By the way, his playa name is Moto Mike, in case you were curious."
Location
145 South Van Ness Avenue
San Francisco, CA 94103
Hours of Operation
Tue – Sat: 12pm – 5pm
Sun & Mon: By appt only