Call us or stop by if you have questions about any of our bikes, what bike would be right for your particular riding style, the next adventure you hope to take, or even if you are looking for ideas before taking off.  We can work with you to find the best fit for your lifestyle and plans.
Our goal is to make sure you have a great time and get the most out of your riding experience.
Location
498 9th Street
San Francisco, CA 94103
**Dec-Jan 20/21 relocating to
145 South Van Ness Avenue**
Hours of Operation
Tue – Fri: 12pm – 5pm
Sat: 12pm – 5:30pm
Sun & Mon: By appt only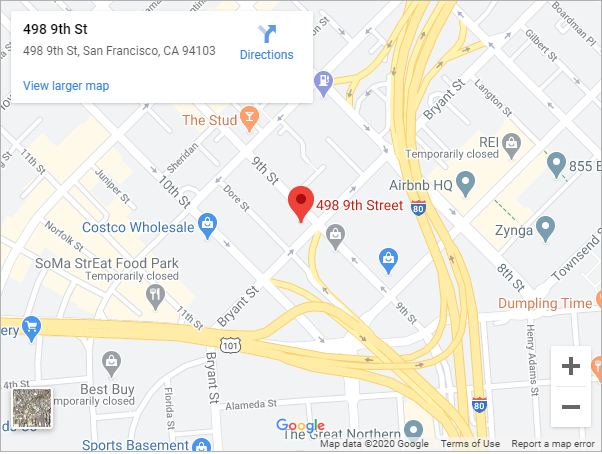 Directions
From the Bay Bridge (I-80 West) exit 9th street: Follow the ramp as it curves to the right. This puts you onto Harrison at 8th Street. Follow Harrison south (get to the left-hand lane). Turn left on 10th, go one block, then turn left on Bryant and turn left on 9th. We're near the corner of 9th St. and Bryant St. at 498 9th St.
From 101 North we're really easy to find: Take the 9th Street/Civic Center exit, then follow the 9th Street ramp onto 9th (get to the left once on the 9th St. ramp) and we're the first business you'll see on the corner to your left.
From the Golden Gate Bridge: Take Lombard Street. Turn right on Van Ness. Turn left on Fell St. (yes, you can really make a left hand turn – we've checked!). Fell becomes 10th St. Turn left on Bryant. Turn left on 9th, and park.
Our Commitment
Our love of motorcycles is what drives us to help you find the best bike to match your unique desires and needs.
Maybe you have not ridden in a while but miss the open road and what it is like to be a part of this unique community. Maybe you have been riding for years and are ready for a newer bike or a different style of bike. Or maybe you have been a hobbyist and are considering riding more regularly and need something that fits this need.
Whatever brings you our way, we look forward to helping you find the perfect match for whatever your intentions may be.